The first insurance company that worries about you.
Really.
Do you drive habitually or little? We offer the customised premium of your dreams.
Forget everything that you know about car insurance
Customised price
If you are a good driver, we will reward you with a discount on your car insurance.
Feel safe
Hello Auto protects you and your car 24 hours a day.
Save more
Yes. Our aim is that you pay less every year.
More than a car insurance
The policy that rewards you with saving, safety and connectivity.
We are clear
We don't have small print.
If you drive well, we will reward you.
Save with the same guarantee
Hello Auto provides the same coverage as the leading insurance companies.
What type of driver are you?
Do you drive habitually or little?
With Hello Auto there are two ways to save:
Hello Auto Smart
Drive well,
pay less.
Save up to 50% each year.
Manage everything from our APP
Hello Auto Connect free.*
*Installation subject to availability and stock of manufacturing materials.
Hello Auto Flex
Drive little,
pay less.
If you don't use your car, don't pay the same as all the rest.
From only 9,99€ per month.
Hello Auto Connect free.*
*Installation subject to availability and stock of manufacturing materials.
No matter what happens, you are protected
On this journey, our co-pilots are the world's leading insurance companies.
Our policies
Third-party insurance
This is basic insurance package. We will protect in case of an accident against someone and their passengers. If you cause damages, don' worry. We'll cover all.
Third-party + fire + theft + windscreen
This insurance covers the same as the third-party package but, in addition, if your car is stolen, burnt or your windscreen is broken, you can have peace of mind. You're covered.
Fully comprehensive with excess
Our most complete insurance package, which includes all the above mentioned covers and damages to your vehicle in case of accident, whether or not it is your fault.
Let's be realistic:
all the insurers are almost the same.
However, we also offer...
Recording camera
Automatic accident detection
Location of your car
Speed cameras alerts
WIFI (optional)
And much more.
Groups of drivers
If you still want to get a major discount on your insurance premium, you have the option of taking part in a group of drivers. Because several drivers do better than one.
Once insured by Hello Auto, you can create or join a group of drivers.
Have you had an accident?
Now filing a claim is a lot easier.
Monitor all your transactions through the app
Now you can find out the status of any claim in the moment, bypassing telephone calls or emails
Forget about the red tape
Fill out the accident report in only 2 minutes from your mobile phone, with audio and photos. It's not paper, it doesn't get lost.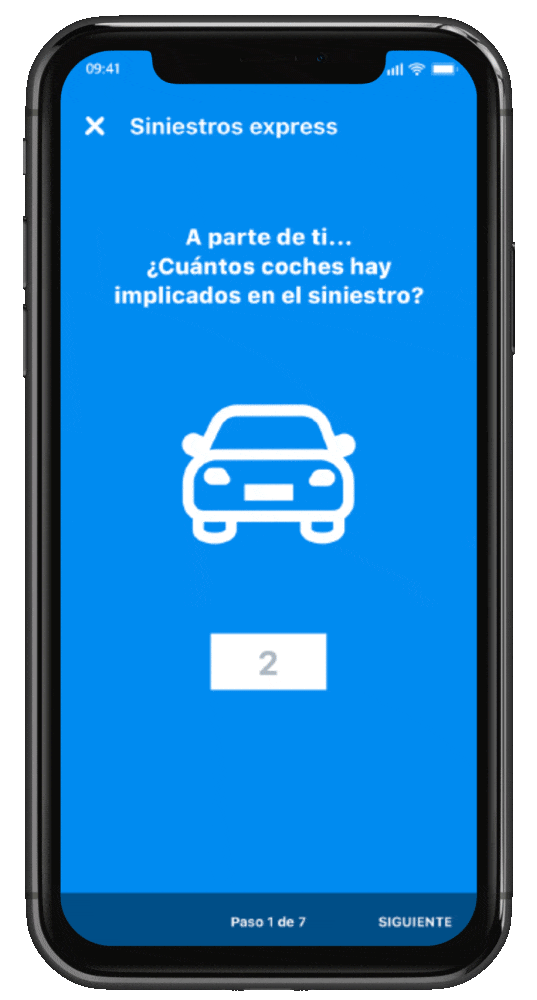 Request your tow truck no phone call necessary
in only one minute.
No matter, wherever you are
Thanks to Hello Auto Connect we will know the exact location where your car broke down.
No more bots
Speed is crucial in an emergency situation. You need a tow truck as soon as possible and that's what you'll get.
Track the tow truck
Through our app, you are able to track in real time the tow truck journey to your vehicle.
Optional Insurance
In Hello Auto you have access to other types of insurance so you don't have to worry.
INSURANCE WITH EXCESS
In case of an accident with an identified vehicle, we'll cover the excess of your insurance. In the case of unidentification, we'll cover 50%.
INSURANCE WITH EXCESS FOR RENTAL CARS
This insurance returns the quantity charged by the rental company in concept of excess.